Products of H.S.S. Gear Hobs
INVOLUTE GEAR HOBS
Involute Gear Hobs for generating gears of maximum accuracy, manufactured in finishing, pre-shaving with or without protuberance and semi topping profiles. These are supplied in single or multi-starts in class 'AA' , 'A' & 'B'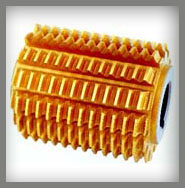 INVOLUTE SPLINE HOBS
Involute Spline Hobs for cutting all types of standard and non-standard involute splines as per DIN 5480, 5481 & 5482. These are manufactured in pressure angles 20°, 30°, 37.5° & 45° with or without shoulder clearances in single or multi-start designs.
STRAIGHT SPLINE HOBS
Straight Spline Hobs are used for cutting parallel splines. These are manufactured with or without lugs, semi-topping and shoulder clearance types in Class 'AA' & 'A'.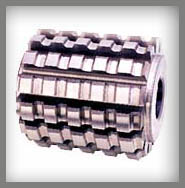 SPROCKET HOBS
Sprocket Hobs are manufactured for chain sprocket tooth forms as per BS, JIS, DIN, ASA standards with non-topping or full-topping types in single or multi-start designs.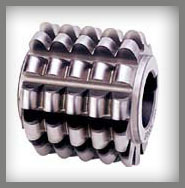 WORM WHEEL HOBS
TWorm Wheel Hobs are manufactured in bore type and shank type in single or multi-start, topping or non-topping as per DIN, BS specifications or as per customer's requirement.'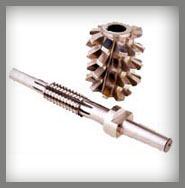 CHAMFER HOBS
Chamfer Hobs are generally used for chamfering of entering end of ring gears. These are available in various types as per drawing of components.